International Education tour to Germany
Posted by

Categories

News

Date

May 22, 2020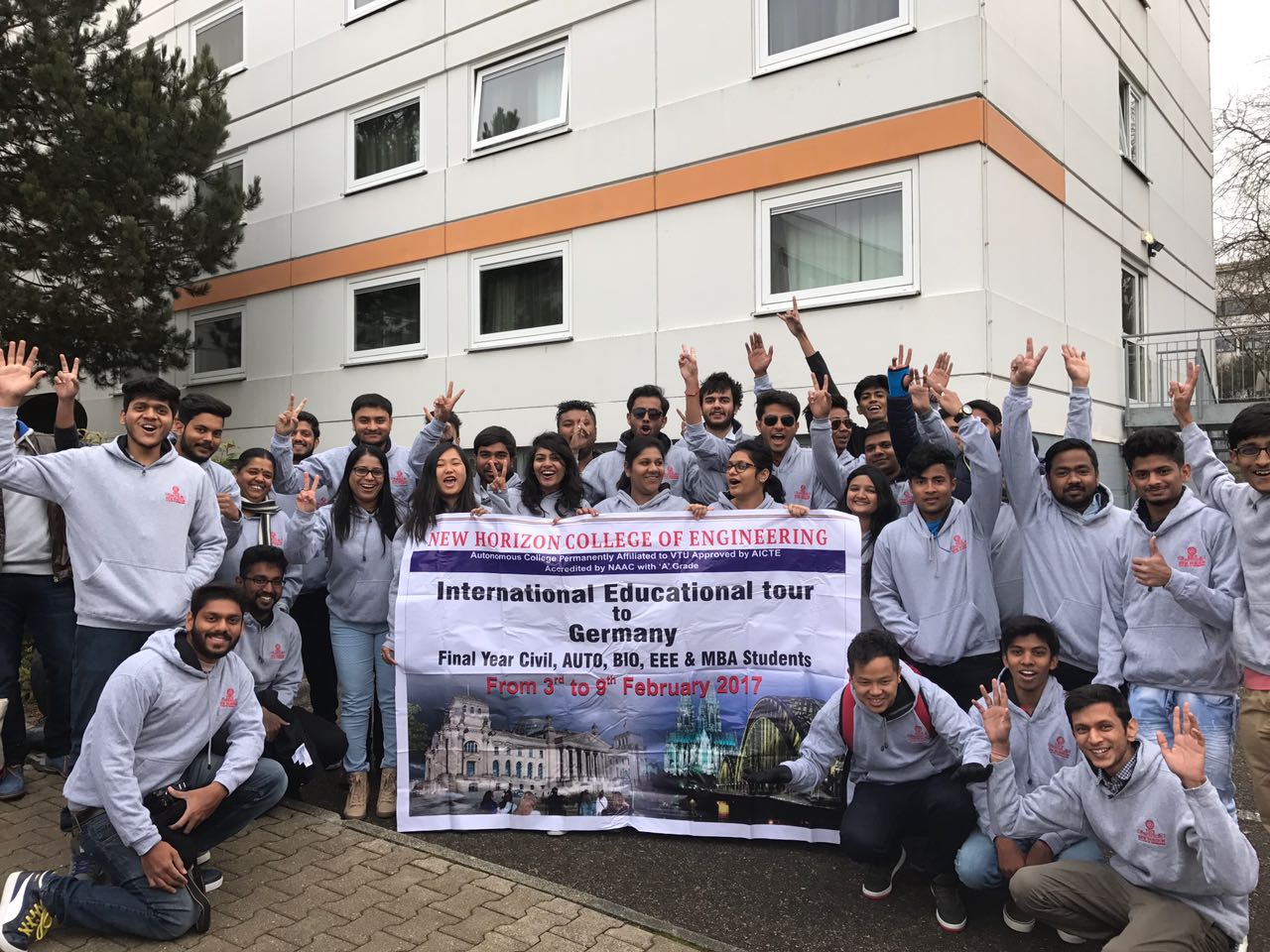 International Trip!!!!! Europe Country !!!!…….. Global Students of New Horizon College of Engineering along with faculty members started their International trip to Germany on 1st February 2017. We prayed Lord Ganesha for a safe and successful trip and departed to Kempegowda International Airport by bus.
After check-in formalities, we boarded the flight to Muscat and from there to Munich. We reached by 7 pm Germany local time, had dinner in an Indian Restaurant and checked in hotel Acardia, Munchen, had a dreamful sleep after a long flight journey which was important to start the next day with bang bang!!!!!
Day 2: Visit Technical University of Munich, where we were part of a seminar which was primarily based on aerospace works carried away by Professors and research scholars. At the end, Certificates were distributed to all the students and teachers. The second half was a visit to BMW museum, where we were beguiled and fascinated by the display of classic old cars and wide array of colorful cars.
Day 3: Tour to Salzburg, a city in Austria, 2-hour journey from Munich. We enjoyed the scenic beauty and remembered the film SOUND of MUSIC shot there at different locations. The snow fields came in disguise of a paradise and playing with snowballs invoked the kid in us. We also witnessed the famous Mozart house and Lake. Way back to Munich, visit The hanger 7 Red bull museum too.
Day 4: City tour of Munich: There was a lovely lady guide who introduced to the city by briefing about the architectures and other cultural heritages, very popular Oktoberfest, and history of Munich. The Munich City tour followed by the unimaginable visit to ALLIANZ ARENA, the 2nd largest football stadium situated in Munich. It was indeed a dream for every football fan to visit Allianz Arena and we have completely jumped out of joy as we entered into the huge stadium. After that, The Opera House, which had a street stretched with a wide array of shops, where we did the shopping.
Day 5: We started our trip to Stuttgart, which is 350 km from Munich and had a small city tour. The young lady guide explained about the city which is rich in architecture that has stories depicting reign of various kings. By 4 pm, we were at the AUDI factory, where we were shown the MAKING of AUDI car, completely automated process. For 2 hours, we were spellbound and watched the robots involved in the making of AUDI cars according to customer specifications. They make 2700 cars a day, which means around 105 cars per hour!!!!!! After dinner checked into Mercury, a four-star hotel. We have enjoyed the hotel amenities and delicious breakfast, the next day morning.
Day 6: Visit Porsche Museum, and was guided through the development of cars with the help of an audio guide. The real beauty of cars and their evolution…… just like other places the cars were mesmerized us, and later we headed towards Munich. After a fast shopping time, we reported to the Munich airport for our journey back to Namma Bengaluru.
Day 7: We landed in KIA around 1.30 pm and came back to college by bus, thanked almighty for providing us a safe and a happy memorable trip. All of us felt that the Trip to Germany seemed to have flown too fast!!!!!!!!!!!
We wholeheartedly thank our management and NHCE for giving us an opportunity for providing us a wonderful trip to Germany, which was a perfect blend of learning and entertainment which we will cherish forever in our lifetime.